My 1971 Honda 750 Bike Project
Back a few years ago, a friend of mine, Mike Kittle, talked me into buying a wrecked Honda 750 motorcycle, and building it into a custom bike. Sure, I could do that. So I bought the bike from a shop in Cookville. It was in a basket. There was no frame, no front wheel, no front end, and not much of anything.

I located a frame at a shop in Knoxville, a front wheel from a Honda 250 in Oliver Springs, a triple tree in Alcoa, and miscellaneous parts wherever I could find them. Sometimes I did not know that I needed them, till I needed them.

J. C. Whitney supplied some of the trim, the z-bars, the wiring harness, and other parts. Mike new where I could get some of the parts chromed. Some cases needed replacing, and Mike helped out there, with all his friends.

I was getting ready to order a tank, seat, and some other stuff when I visited a bike shop in Knoxville. I had been there before, and they had this one piece body, tank and seat, with back fender and oil covers, but they wanted too much for it. I had just about run out of money. The guy in th shop asked if I was still interested? I said yes, and he said "half price". You can see it on the bike, so you know what I did. Just as a note, getting a title was easy, because the frame I bought had a serial number. If I had bought a custom frame, it would have been a bitch.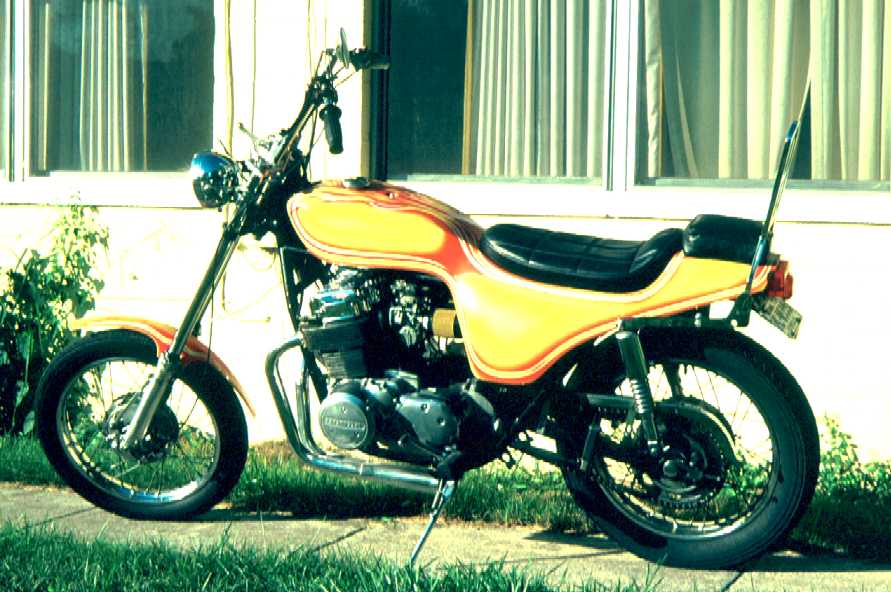 Click to view larger image



The Mufflers do not come past the transmission. Yes, it was a wee bit noisy if you cranked it. It's got 8" over front tubes to push it up. The 'pee' pad I made myself. All in all it was a fun project, though a long one. The bike did not have a speedometer. I found a tachometer from a Triumph, and used it to gage my speed. Then it quit, so I used the engine sound and my eyes. If my eyes saw a cop, I backed off a lot. The bike would almost idle at 55 mph in 5th gear.

Mike and a couple of other bikers went for a ride one day, on a fairly new section of Interstate. We started back to Knoxville, and we just started getting faster and faster. My helmet was about to choke me to death, but the bike was handling fine. We were passing cars like they were standing still. When we finally pulled off the freeway, I asked Mike, who had a speedometer, how fast we were going. He said, "about 150 mph". I told him, "Next time, tell me where we were heading, and I would meet them there later!" I never drove it that fast again.

My wife, Shirley, and I went on road trips. When we wanted to buy a house, I sold it to get down payment money. I was tired of getting run off the road by idiots anyway. Now that I am in Houston, Texas, and have seen the drivers here, I have no interest in a motorcycle whatsoever.


---
Fred W. Guymon
2519 Williams Grant
Sugar Land, TX 77479

---




Last Updated: