BMXer Cody Wayne Guymon
This is just the start.



---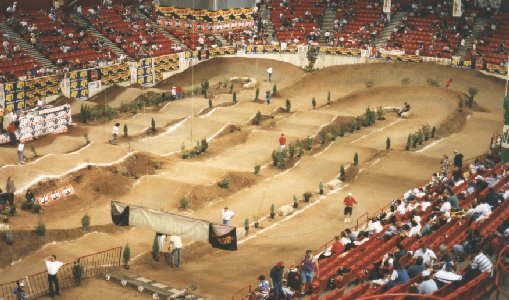 This is the track at the ABA Nationals in Oklahoma City.



---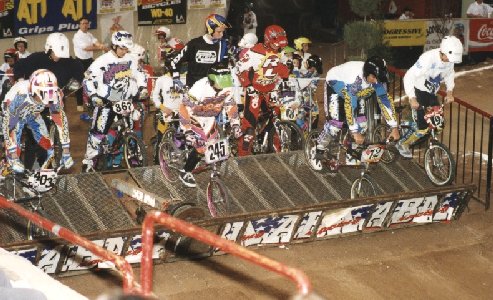 This is the Starting Gate at the Nationals. Cody is in the middle, black helmet with green visor, number 245.



---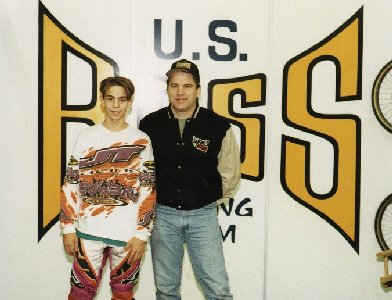 Cody had just started racing BMX bikes, when one of his friends called late one night. I explained that it was too late for Cody to be talking on the phone on a school night. His friend showed up at our house early in the morning. Apparently, he had read in a BMX magazine that Cody Guymon was a member of the BOSS racing team. BOSS had a national championship the year before. I thought this a little strange, since Cody had not won a single race yet. Shirley decided to look up Boss Bikes and give them a call.

When she did, the guy on the other end said, "Ma'm, your son would know if he had been selected for the team. What is your son's name?" She said "Cody Guymon" and the guy laughed, and said, "Is this a joke?" It turns out that one of the owners of the company had a son named Cody, and just by chance his last name was Guymon. We all had a good laugh about this.

I found out about Jesse Guymon and his son Cody, and then talked to Jesse's father. We exchanged genealogical information, and other stuff. This picture is of Jesse Guymon and my Cody Guymon. Jesse's boy could not make the Nationals this year.


---